Introducing the EVGA X570 FTW WIFI
- November 9, 2021



The EVGA X570 FTW WIFI is a motherboard built upon the AMD X570 chipset to provide everything you need while giving you the performance you demand. Designed and engineered from scratch with a 15-phase digital VRM design, this is one sleek-looking motherboard jam-packed with the latest features and EVGA GUI BIOS. Paired with an AMD Ryzen™ 5000 Series processor, this board is PCIe Gen4-ready with a data transfer rate of up to 16 GT/s to support the latest graphics cards and M.2 NVMe SSDs, scorching-fast 4600MHz+(OC) memory, HDMI/DisplayPort outputs, lots of USB and SATA 6Gb/s ports, and RGB/ARGB options. The EVGA X570 FTW WIFI gives you the freedom to choose your EVGA motherboard without sacrifice or compromise.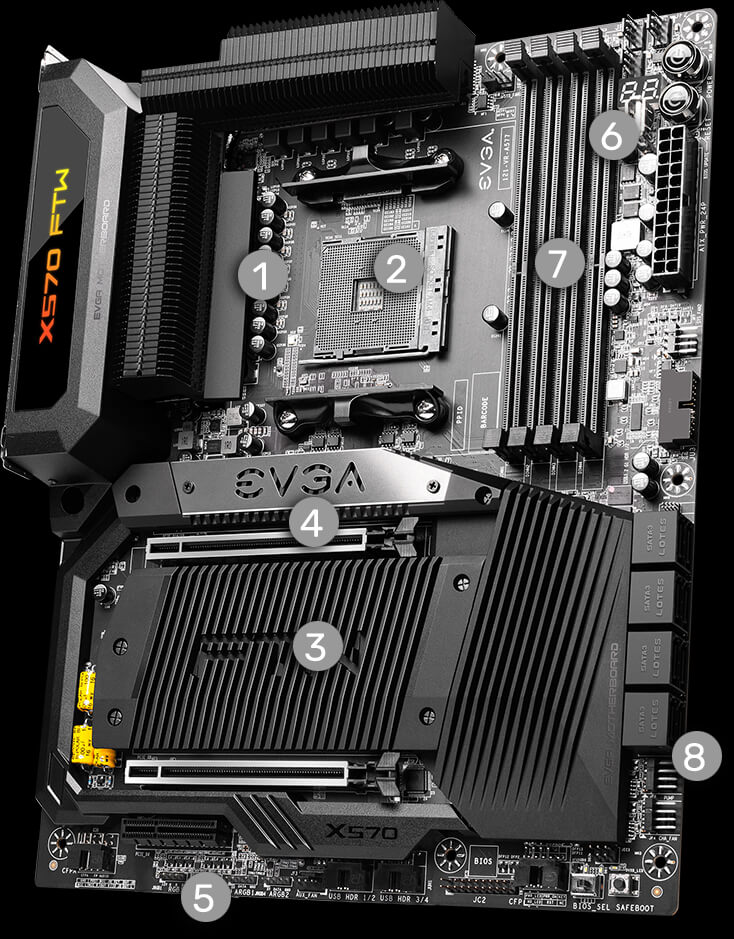 1. 15-Phase Digital VRM
4. PCIe 4.0 x16 (x16/x8, x8)
7. 4x DDR4 DIMMs
2. AM4 CPU Socket
5. 2x ARGB / 2x RGB Headers
8. Pump Header
3. PCIe Gen 4.0 M.2 Key-M Slots
6. USB BIOS Update Port
Extraordinary Performance by Ryzen™ Processors
| | | |
| --- | --- | --- |
| | | |
| Overclocking - Quick and Easy | Real-Time Monitoring for System Vitals | Essential Utility for Peace of Mind Overclocking |

To learn more about the EVGA X570 FTW WIFI, visit https://www.evga.com/articles/01510/EVGA-X570-FTW-WIFI


关于 EVGA
EVGA 是全球显示适配器的领导品牌,不断推出领先业界之产品,并且是 NVIDIA 在北美 #1 的授权合作伙伴,长期致力产品设计的创新与专注质量服务。针对客户的特定需求,提供合适的产品、服务和解决方案。有关 EVGA 的更多信息,请参阅全球信息网 http://cn.evga.com.