EVGA Precision XOC
释放Pascal 强大的力量
新一代的EVGA PrecisionX已经蜕变成为EVGA Precision XOC。这这是为了NVIDIA Pascal 架构所量身打造的,结合了EVGA Precision以及EVGA OC Scanner两款程式,提供前所未见的超频架构,以及自动化超频调整。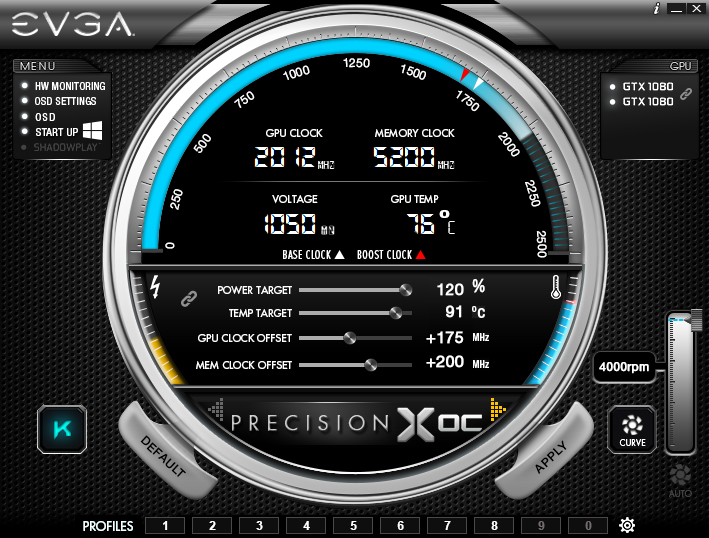 Exclusive features for EVGA GeForce GTX 1080/1070! This features will automatically enable on an EVGA graphics card:
DirectX 12 OSD Support – See the on screen display on DirectX 12 games.
EVGA OC ScannerX Integration – Automatically find your optimal voltage/frequency curve!
K-Boost Function – Maximize your clocks with this exclusive feature.
RGB LED control (on EVGA GeForce GTX 1080 FTW)
主要特色
以全新的GPU加速3.0功能支援的NVIDIA GeForce GTX1080
为最终控制动态设置独立的电压/频率
线性模式能让您一键超频
使用扫描模式,找到适合您的卡的最佳电压/频率曲线!
支援微软DirectX12 (EVGA card required)
有RGB色彩支持OSD界面
GPU,显存和电压控制
客制化风扇控制/风扇曲线
分析系统允许多达10个配置文件与热键
在游戏截图热键能支援BMP和JPG
更多!
系統需求
GeForce GTX 1080/1070 (EVGA card required for full versions)
Microsoft Windows 10, 8.1, 8, 7, Vista
下载Precision XOC
下载最新版本EVGA Precision XOC (6.2.7)。
EVGA PRECISION XOC LICENSE AGREEMENT
© 2016 EVGA Corporation. All Rights Reserved.
This License Agreement is for Customer's use of EVGA Precision XOC Software (the "Software") and for any associated printed materials (the "Documentation" and, collectively with the Software, the "Licensed Materials"). The Software is licensed to Customer under this License Agreement by EVGA Corporation ("EVGA") solely for use with EVGA's VGA cards 10 series or higher (the "Corresponding VGA Cards"). This License Agreement sets forth the terms and conditions of use of the Software only (and not of the Corresponding VGA Cards).
By clicking to accept or agree to this License Agreement when downloading or installing the Software, you agree to comply with and be bound by this License Agreement. If you do not agree to this License Agreement, you must not install or use the Licensed Materials. If the individual clicking to accept or agree to this License Agreement is doing so on behalf of a corporation or other entity who has purchased or obtained a Corresponding VGA Card, then you (the individual) represent and warrant that you have authority to bind such entity as the "Customer" hereunder and enter into this License Agreement on its behalf. If the individual clicking to accept or agree to this License Agreement is not doing so on behalf of such an entity, then "Customer" refers to you (the individual).
1. GRANT OF LICENSE
EVGA hereby grants Customer the non-exclusive, non-transferable, non-sublicensable right to (a) install the Software on one or more computers that incorporate one or more Corresponding VGA Cards, (b) use the Software solely with such Corresponding VGA Cards (and not with other graphics cards), and (c) make a reasonable number of back-up copies of such Software, subject to the below express restrictions and the other terms and conditions of this License Agreement. Customer may also use and make a reasonable number of copies of the Documentation solely for Customer's personal or internal use as applicable.
2. RESTRICTION ON USE
Customer shall not:
(a) reverse engineer, decompile, or disassemble the Software; attempt in any other manner to obtain or derive the source code of, or any algorithms contained in, the Software; or attempt to disable any security devices or codes incorporated in the Software;
(b) modify, adapt or create derivative works of the Licensed Materials, or any portion therefore;
(c) reproduce or copy the Licensed Materials, except as expressly permitted in Section 1 above;
(d) distribute or transfer the Licensed Materials to any other person;
(e) use the Software for any commercial use, utilization and distribution, including but not limited to public demonstration or overclocking event, etc.; and
(f) separate any component part(s) of the Software for use on more than one computer, or otherwise used separately from the other parts.
3. INTELLECTUAL PROPERTY
Other than the express limited licenses granted hereunder, EVGA and its licensors retains all rights, title, and interest in the Licensed Materials, including in all rights in copyrights, patents, trademarks, trade secrets and other intellectual property rights underlying or covering the Licensed Materials. Customer shall not alter, remove, or obscure any printed or displayed legal notices contained on or in copies of the Software. The Software is protected by copyright laws and international copyright treaties, as well as other intellectual property laws and treaties.
4. LIMITATION OF LIABILITY
TO THE MAXIMUM EXTENT PERMITTED BY APPLICABLE LAW, THE SOFTWARE IS PROVIDED "AS IS" AND EVGA AND ITS AFFILIATES DISCLAIM ALL WARRANTIES OF ANY KIND OR NATURE, WHETHER EXPRESS, IMPLIED, OR STATUTORY, RELATING TO OR ARISING FROM THE SOFTWARE, INCLUDING, BUT NOT LIMITED TO, IMPLIED WARRANTIES OF MERCHANTABILITY, FITNESS FOR A PARTICULAR PURPOSE, TITLE, AND NON-INFRINGEMENT. Without limiting the foregoing, Customer acknowledges and agrees that Customer is solely responsible for (a) verifying that the Software is being used with a Corresponding VGA Card of the appropriate version and model number, on a compatible computer and operating system; and (b) ensuring that any configuration or setting changes Customer makes to the Corresponding VGA Cards, including GPU clock offsets, memory clock offsets, fan speed, and voltage, are within manufacturer's recommended ranges and safety and tolerance specifications. EVGA shall have no obligation or liability for damage to the Corresponding VGA Cards, any other video cards, or any computer due to changes Customer elects to make with the Software to such hardware's settings.
TO THE MAXIMUM EXTENT PERMITTED BY APPLICABLE LAW, IN NO EVENT SHALL EVGA OR ITS AFFILIATES BE LIABLE FOR ANY SPECIAL, INCIDENTAL, INDIRECT, OR CONSEQUENTIAL DAMAGES WHATSOEVER (INCLUDING, WITHOUT LIMITATION, DAMAGES FOR LOSS OF BUSINESS PROFITS, LOSS OF DATA, BUSINESS INTERRUPTION, LOSS OF BUSINESS INFORMATION, OR ANY OTHER PECUNIARY LOSS) ARISING OUT OF THE USE OF OR INABILITY TO USE THE SOFTWARE, EVEN IF EVGA HAS BEEN ADVISED OF THE POSSIBILITY OF SUCH DAMAGES.
5. TERMINATION
Customer's licenses and rights under this License Agreement shall terminate immediately upon Customer's breach of any of the terms or conditions of this License Agreement. Upon any termination of this License Agreement or the licenses granted hereunder, Customer must destroy all copies of the Licensed Materials. Sections 2, 3, 4 and 6 shall survive any termination of this License Agreement or the licenses granted hereunder.
In addition, if Customer commences or participates in any legal proceeding against EVGA, then EVGA may, in its sole discretion, suspend or terminate all license grants and any other rights provided under this License Agreement during the legal proceedings.
6. MISCELLANEOUS
If any provision of this License Agreement is inconsistent with, or cannot be fully enforced under, applicable law, such provision will be construed as limited to the extent necessary to be consistent with and fully enforceable under the law. This License Agreement is the final, complete and exclusive License Agreement between the parties relating to the subject matter hereof, and supersedes all prior or contemporaneous understandings and agreements relating to such subject matter, whether oral or written. This License Agreement may only be modified in writing. Customer agrees that it will not ship, transfer or export the Software into any country or to any individual prohibited by any applicable export laws, restrictions or regulations. This License Agreement shall be construed pursuant to and governed by the laws of the State of California, without regard to its conflict of laws rules. The United Nations Convention on Contracts for the International Sale of Goods is specifically disclaimed
EVGA Precision XOC 版本纪录
Version 6.2.7
Release: 5/8/2018
Fixed Power and Memory fan increased fanspeeds when starting Precision XOC or switching skins.
Fixed GPU fan not allowing software fan curve when starting Precision XOC or switching skins.
Improvements to EVGA Z10 keyboard compatibility.
Fan curve improvements.
Various bug fixes and GUI improvements.
Version 6.2.6
Release: 4/24/2018
OSD control is now handled in the "HWM" section. Click the dropdowns at the top to add/remove monitoring and select icons to show where to monitor it.
Add support for EVGA Z10 Keyboard display.
Increase number of GPU's supported.
Add bootup splash screen (splash screen is disabled when "start minimized" is enabled.
Updated LED Sync to v1.0.9 to support backplate logo breathe and other modes.
Fixed fan curves not showing if they are launched outside of the viewable area on the monitor.
Fixed screenshot function.
Various bug fixes and GUI improvements.
Version 6.2.3
Release: 11/8/2017
Adds LED SYNC startup with Windows Function
LED SYNC will minimize to taskbar on close
Various other bug fixes
Version 6.2.2
Release: 11/2/2017
Adds support for GeForce GTX 1070 Ti
Adds new feature "EVGA LED SYNC" – Allows you to sync the lighting on EVGA RGB components! (CLC, GPU, Chassis)
Adds new feature "EVGA Precision XOC Scanner" – A new and easy way to auto overclock your EVGA GeForce GTX 1070 Ti
Adds auto update function
Version 6.1.16
Release: 9/6/2017
Fix LED issue on 1080 Ti FTW3 HYBRID
Make OC Scanner Manual Mode VF Curve Smooth
Various Other Bugfixes
Version 6.1.15
Release: 8/21/2017
Disable F1 Help function in all dialogs.
Fix KINGPIN skin "TEMP TARGET" unit error.
Version 6.1.14
Release: 8/10/2017
Adds new KINGPIN skin. You can select the new skin from Settings > Interface > Select Skin
Fix OSD font size and position not working in some 64bit applications.
Fix Power Target is not correct when switching BIOS's on dual BIOS graphics cards.
Version 6.1.13
Release: 7/27/2017
Fixes 1080 Ti FTW3 crash resulting from v6.1.12.
Version 6.1.12
Release: 7/25/2017
Fix power & memory fan swap in software fan curve control.
Fix power & memory fan swap in hardware monitor.
Version 6.1.11
Release: 7/17/2017
Fixed issue where custom fan curve settings were not activating at desired temperature/fan threshold.
Version 6.1.10
Release: 7/5/2017
Fix multimedia keys causing OSD to function incorrectly.
Version 6.1.8
Release: 6/19/2017
OSD items now group, saving screen space
OSD size and position settings are added in PXOC OSD settings
Updated exclusion list
Screen capture now supports PNG format
GPM color now changes immediately
Voltage slider now has button
Performance optimizations
Various bugfixes
Version 6.1.6
Release: 5/3/2017
Optimized EVGA GeForce GTX 1080 Ti FTW3 Support
Version 6.1.4
Release: 4/28/2017
Support FTW3 fan control and backplate logo led.
Support GPU/Power and GPU/Memory fan sync function.
Support Fan curve for 3 fans.
Backplate logo led support LED Visualizer / Static On / Static Off / Follow Badge Color modes.
Version 6.1.3
Release: 4/20/2017
Adds support for EVGA GeForce GTX 1080 Ti SC2/SC Black
Fixes framerate limiter issue
Fixes power fan profile bug
Version 6.1.2
Release: 3/16/2017
Adds full support for EVGA iCX Technology. To learn more about EVGA iCX Technology visit www.evga.com/icx
Update LED descriptions
Fix S3/S4 resume error
Various other fixes
Version 6.0.9
Release: 11/11/2016
Add support for adjusting OSD font size. (Access through Precision XOC Server application)
Add origin.exe to OSD exclude list
Add pixel clock adjustment up to 144Hz
Fix Battlefield 1 OSD crash when changing resolution
Version 6.0.8
Release: 10/26/2016
Add support for GeForce GTX 1050 and 1050 Ti
Fix fan curve profile switch fail on hotkey
Fix Precision XOC Servers block EVGA K-Boost
Resume OC Scanner VR curve after OC Scanner crash
Add more programs to OSD exclude list
Disable functions that can cause system crash while OC Scanner is running
Version 6.0.7
Release: 9/26/2016
Fix V/F Curve error if primary PCI-E slot is not used.
Change "Shadowplay" button to "Share".
Add Battle.net to OSD exclusion list.
Minor naming updates.
Serial number on first bootup now optional.
Version 6.0.6
Release: 9/8/2016
OC Scanner page now will not show if not supported.
Fix profiles not working on non-10 series cards.
Fix GPU info does not match when changing GPU.
Add LED control for K|NGP|N cards.
Add overvoltage and overboost function for supported cards (In settings).
Add GPU name display for GTX 10 series cards.
Version 6.0.5
Release: 8/29/2016
Now supports ALL NVIDIA cards!
Adds support for TITAN X (Pascal)
Fix crash with 22 CPU cores
Fix crash on LED control if card does not have hardware LED
Add "setpoint.exe" to the OSD exclude list
Version 6.0.4
Release: 7/29/2016
RGB color values now save to firmware
Improve bootup speed
Change GPU clock offset to set in 1MHz increments
Fix 2D/3D profile crash issue
Fix SLI GPU order incorrect
Various UI improvements
Version 6.0.3
Release: 7/19/2016
Add support for GeForce GTX 1060
Add antialiasing on OC Scanner
Fix profile not saving correctly
Improve startup time
Fix GPU offset incorrect after switching GPU
Fix bug related to KBoost and incorrect VF curve
Fix issue with OCScanner starting by itself
Correct VF points on OC basic mode to match GPU clock
Fix framerate target error
Framerate target max increase to 144Hz
Version 6.0.2
Release: 6/28/2016
Fix VF curve data incorrect when switching GPU
Fix invalid fan curve showing when switching GPU
Fix VF curve editor crash when switching GPU
Fix power and target voltage set incorrectly when closed
Change setting dialog to always be on top
Fix GPU voltage not showing in hardware monitor
Check VF curve clock offset range to avoid out of spec
Restore power target and voltage after OC Scan complete
Fix GPU clock offset not saving to profiles
Fix voltage going to 100% after switching profiles
Cancel OC scanner if click default
Save LED status into profile
Version 6.0.1
Release: 5/28/2016
Fix V/F control on Non-EVGA Card
Add LED control for 1080 FTW
Version 6.0.0
Release: 5/27/2016
EVGA Precision XOC Release